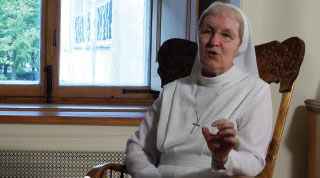 French only
A visit to the Le Monastère des Augustines is a unique opportunity to discover or re-discover a chapter of our history, in a place dedicated to heritage, culture and well-being. The innovative presentation concept builds on the past in order to offer visitors a decidedly contemporary "adventure within" that weaves together two key themes: health and culture.

The Monastère des Augustines is open to people of all cultures and faiths, be they residents of or visitors to Québec.
Several initiatives have been developed as part of the Fiducie's social and cultural mission in order to achieve the following: provide respite to family caregivers, offer support to professional caregivers, provide accommodations and support to individuals accompanying patients from remote regions, recognize the dedication of volunteers working in health and social services, encourage groups committed to caring for and serving others, offer young people and low-income individuals access to nationally significant heritage, promote access to the Augustinian sisters' archives, and build awareness of this fascinating chapter of Quebec's past.