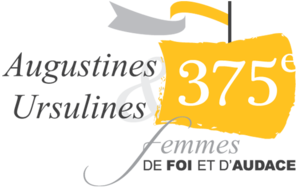 May 1, 2014
LAUNCH OF FESTIVITIES CELEBRATING 375TH ANNIVERSARY
375th Anniversary of the arrival of the Augustinian and Ursuline Sisters
Celebrating 375 years of faith and courage
Quebec, April 24, 2014 – Sister Hélène Marquis, Superior General of the Fédération des Augustines, and Sister Louise Gosselin, Superior General of the Ursuline Sisters, welcomed guests to the Ursulines' chapel in Quebec City for the launch of the festivities surrounding the 375th anniversary of the arrival of the two congregations in Quebec.
Still very active, the Augustinian and Ursuline Sisters decided to mark this historic anniversary with public celebrations. Everyone is invited to participate in the various festivities that will take place all summer long. Visit www.le375e.com for program details (in French only).
After a long and perilous sea voyage, the Augustinian and Ursuline Sisters arrived on the continent on August 1, 1639, and took their place as hospitallers and teachers in New France. By their missionary activity, they helped shape the past and the present of Quebec society.
In addition to the General Superiors of the two congregations, Gaétan Proulx, Auxilliary Bishop, Ms. Michelle Morin-Doyle, representing Mr. Régis Labaume, Mayor of Quebec City, and Mr. Konrad Sioui, Grand Chief of the Huron-Wendat Nation, all spoke at the launch and offered their support for the festivities.
These women of faith and courage invite you to join in the celebrations that are at once a tribute to the past and a salute to on-going commitment.
WATCH the livestream of the press conference (in French only)
Source: Joannie McLeod / le375e.com