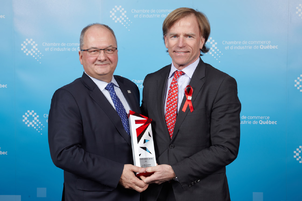 July 6, 2016
The Monastère des Augustines shines bright at the Fidéides awards
The Chambre de commerce et d'industrie de Québec awarded the Monastère des Augustines a Fidéide award in the non-profit category on March 17 at the Québec City Convention Centre. Nearly 600 business people attended this gala for the entrepreneurs of the Greater Québec City region. In all, 15 Fidéides were handed out over the evening to honour exceptional businesses and organizations.
"We are most pleased by this recognition, as it is a demonstration of the business community's support of the contemporary vocation of this priceless heritage building, rich with 376 years of history," said Isabelle Duchesneau, Executive Director of the Monastère des Augustines.
To open the event, a performance by the Lévis-based dance troupe DM Nation set the tone for this most lively evening. For more than 30 years, the Fidéides have honoured the business success of companies in the Capitale-Nationale and Chaudière-Appalaches regions.
For the full list of award winners, click here