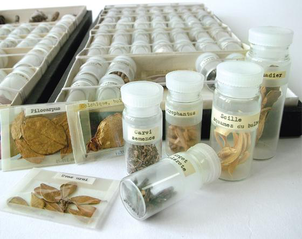 March 11, 2016
In March, enjoy activities marrying health and culture
The Monastère des Augustines' cultural programming overflows with workshops and lectures that draw on the Augustinians' heritage with a modern twist. On the docket for March: workshops and a lecture that will develop your creativity, perfect your knowledge of medicinal plants and allow you to travel through time to observe the various ways of practicing medicine.
Step into the world of medicinal plants
As part of our culture and health series, herbalist Hélène Mathieu will lead six workshops around the theme Medicinal Plants, A Living Heritage. Incorporated into our daily lives, medicinal plants are true allies in healing our wounds. Each session will lead participants to discover various herbal treatments used now and in the past. Special attention will be paid to the legacy of the Augustinians, who were apothecaries and healers. Throughout the workshops, participants will receive easy and useful recipes to try at home. Participants may attend all six workshops or pick and choose among them. The workshops in this series will be held every Tuesday evening at 6:30 p.m. For more information or to reserve your spot, click here (in French only).
How are your humours?
Gilles Barbeau invites you to learn the origins of certain health practices and beliefs in a lecture held March 29, at 7 p.m. President of the Société québécoise d'histoire de la pharmacie and professor emeritus at the Faculty of Pharmacy at Université Laval, he has entitled his lecture From the Theory of Humours to the Law of Signatures: An Ever-relevant Subject. Mr. Barbeau will show us how the notion of humours, a healthcare system that dominated beliefs and medical practice for 2,000 years, remains perceptible today. For more information or to reserve your spot, click here (in French only).