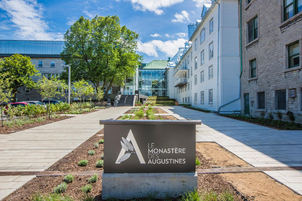 August 1, 2015
Welcome to Le Monastère des Augustines!
On August 1st, the Fiducie's Le Monastère des Augustines priority project willdraw to a close. The monasteryis now open to the public. August 1st is also a symbolic date as it concludes the 375th anniversary celebrations of the arrival of the three Augustine who founded the first North American monastery-hospital north of Mexico in 1639. The results of over two years of restorations of the Hôtel-Dieu de Québec monastery are truly spectacular! The museum, the archives, the experiential accomodation and all the services offered on site have been carefully thought out in restoring this heritage site.
A big day for the Fiducie
Since March 2013, 1,000 people have invested over 300,000 hours to restore the monastery. "We are proud of this work and pleased to have been able to respectfully build on the monastery's past while opting for a resolutely contemporary design that highlights the space's new vocation," says Marcel Barthe, the president of Fiducie du patrimoine culturel des Augustines. The project called for an investment of nearly 42 million dollars, funded by the Augustines and the federal, provincial and municipal governments.
Another step towards our social and cultural mission
As the custodian of the Augustine's material legacy, the Fiducie aims to care for those who care for others and to make the Augustine's heritage and archives accessible to as many as possible. Its greatest goal is to open the monastery to all and pursue the Augustines' work by adapting this site to modern life.
Now that the restoration is done, the Fiducie will launch various initiatives this fall. "We are looking forward to welcoming family caregivers so that they may have a moment's respite to draw renewal from this calm setting," Mr. Barthe explains. "Patients' caregivers and people accompanying sick persons from remote areas may stay in the monastery for a modest sum," he adds. Moreover, Hospitality Circle will be launched in September and several other initiatives will also be developed to support professional caregivers and healthcare and social service professionals.
The Fiducie continues its quest for funding, which will make it possible to launch other initiatives for volunteers in the health field and service groups, to provide young people with access to the museum and to continue digitalizing the archives so they may be conserved and disseminated online.
For more information:
The Monastère des Augustines' website
Video "Le chantier du Monastère des Augustines tire à sa fin" (in French only)
Photo : André-Olivier Lyra